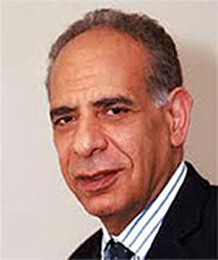 Prof. Ishak was born in Egypt and currently lives in London, where is the current Executive Chairman of Optive Group. He graduated from Ain Shams Medical School in Egypt and was trained as an Orthopedic and Spinal Surgeon in the United Kingdom.
During his medical career, he pioneered work on lower limb graded pressure stockings, which reduce the risk of DVT and Pulmonary Embolism; currently, these stockings are used worldwide in all type of surgeries. Prof. Ishak was instrumental in the adaptation of the ISO 9001 in healthcare accreditation, and he was chosen by his peers as an Honorary Companion Charter at the Institute of Management, where he also teaches Healthcare Economics to MBA students. He was made Freeman of the City of Glasgow for his civic contributions, including work as a senior adjudicator in disputes between government and private healthcare providers in the UK. Prof. Ishak is one of the early participants in PPP and has three major projects with the British National Health Service, including a project with the Neuroscience Institute in Preston University.
Prof. Ishak is the Chairman of the Egyptian Medical Society-UK and Vice Chairman of The British Egyptian Society. He is a member of the Institute of Directors-UK and the Supervisory Board of the London-Middle East Institute at London University. He is the Founder and former CEO of Covenant Healthcare Group.