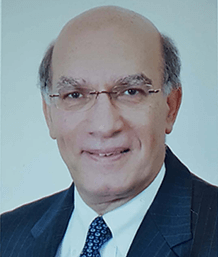 Mahmoud M. Abdallah
Managing Partner, MMA Global Investments
President, MMA Global Advisors
Mahmoud M. Abdallah is the founder and Managing Partner of MMA Global Investments LLC, an investment firm. He is also the founder and President of MMA Global Advisors, a strategic advisory firm. He has over 30 years of experience in the insurance and financial industry, including real estate investment, mergers and acquisitions, consulting, privatization and global initiatives. He is a Senior Advisor to Public Pension Capital (PPC). Most recently he was appointed Senior Advisor to the President of the American University in Cairo for Enterprise Risk Management and Strategy. Prior to that he worked as an advisor to The Rockefeller Brothers Fund, Japan International Cooperation Agency (JICA) and Mazars USA.
Mr. Abdallah was the architect of insurance reform in Egypt, where he served as Chairman and CEO of Misr Insurance Holding Company (MIHC). He oversaw one of the largest merger and restructurings in the Middle East.
Mahmoud worked for American Re Corporation for 20 years, one of the top providers of insurance and reinsurance in the world. He served as Executive Vice President as well as President of International Operations. He played a major role in the MBO of the company with KKR and the subsequent merger with Munich Re. He served on the board of the International Insurance Council in the U.S., where he was elected Chairman twice.
Mahmoud served on the board of Validus Holdings, Ltd., which was acquired by AIG. He is also on the board of IPR Group Holding in Zurich, the Metropolitan Opera in New York and a member of the National Council for Arts and Sciences at George Washington University. He is also on the board of the director for the Grand Egyptian Museum (GEM). He has formally served a wide variety of public and private boards, including Orascom Hotel and Development, HSBC Egypt, Egypt Air, Egyptian Resorts Company, and American Re Corporation and associated companies.
Mr. Abdallah is the founder and donor of the MMA Foundation, a 501c3 charitable organization established in 2001 to fund charitable, educational, scientific, medical, artistic and community services. He also serves on the board of directors for the Magdi Yacoub Global Heart Foundation.
Mahmoud earned a Bachelor's and Master's of Business degree from Cairo University. He received an Associate of Underwriting (AU) Designation from the Insurance Institute of America.