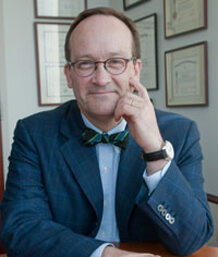 Dr. Sundt is the Edward D. Churchill Professor of Surgery and Chief of Cardiac Surgery at Massachusetts General Hospital, a position he has held since 2011.
A graduate of the Johns Hopkins School of Medicine, he trained in Surgery at the Massachusetts General Hospital and in Cardiothoracic Surgery at Washington University in St. Louis. Following an additional year of training in transplantation and advanced cardiac surgery at the Harefield Hospital with Professor Sir Magdi Yacoub, he joined the faculty at Washington University. During his 7 years at Harefield Hospital, he developed an interest in surgery of the aorta as well as valve repair and arterial grafting for coronary artery disease. In 2001, he relocated to the Mayo Clinic in Minnesota, where he advanced to Professor of Surgery and Vice-Chair of the Department of Surgery. He also developed an interest in patient safety, medical error and surgical decision-making.
He is a co-director of the Corrigan Minehan Heart Center and Past-President of the American Association for Thoracic Surgery.